Arsenic Filter for Well Water
Water problems are no match for our specialty solutions. Our systems can be used on well water or city water. Kinetico specialty filter systems will eliminate impurities, such as iron, sulfur, manganese, and arsenic, restoring your water to its most pure state. Kinetico Water Systems can take on and solve virtually any water problem. Read More
Isn't Well Water More Pure than City Water?
Many of us fantasize about living in earlier, simpler times when life was less hectic and stressful. As part of that dream, well water as being a better, more pure alternative to the rigorously processed, chlorinated, and sometimes recycled water supplied by the cities of our great nation. And in theory, it is. But just because it comes directly from nature doesn't mean it's guaranteed to be perfect. In fact, it is prone to natural processes that can introduce harmful chemicals and minerals when you least suspect it. We have the best well water filters for arsenic that you will find anywhere, and we can install one in your house to correct a current issue and ensureagainst future problems.
We have great experience in this commercial or residential water softener area and we've seen it all, from minerals that harm household equipment and compromise hygiene to excess acidity, which can cause damage. And we've seen arsenic in water too. That's why we put arsenic removal water filters on our list of services we can provide to the good people of the Bay Area.
Does an Arsenic Filter for Well Water Remove Arsenic From the Whole House?
It can if we install a whole-house water filter system, which in many cases is the best idea. Water has a tendency to get everywhere by leakage and splashing, so you may choose to get a Kinetico whole-house water filter installed, rather than purely a filter for removing arsenic in well water. Kinetico is the brand we use, and we trust it completely because we've been installing their systems for decades. Their systems can remove unwanted minerals such as calcium, magnesium, iron and manganese, as well as harmful acidity.
How can I Remove Arsenic in my Well Water Now?
Call us. It's as simple as that. We will recommend the water conditioning system that's best for you and our skilled technicians will install it with a minimum of disruption. Then you'll never have to worry about removing arsenic in your well water.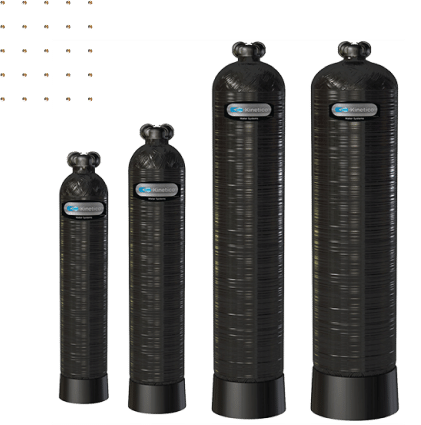 Dechlorinator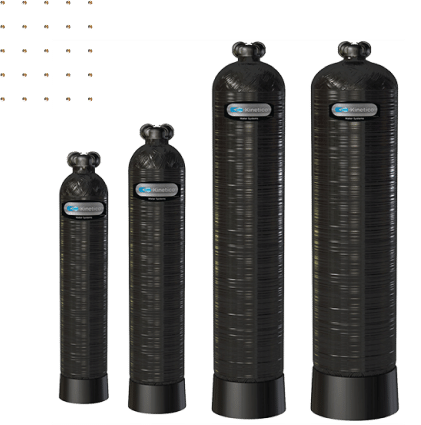 Our single-tank unit is a simple solution for whole-home chlorine removal. It's the perfect addition to a Kinetico water softener installed on a chlorinated water supply.
Chlorine-Free Water

The system provides chlorine-free water to every faucet in your home, while also protecting your water softener from the harsh effects of chlorine.

Single Tank

The single-tank Dechlorinators are ideal for homes with lower water flow demands.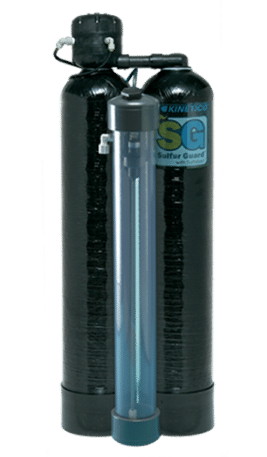 Sulfur Guard Backwashing Filter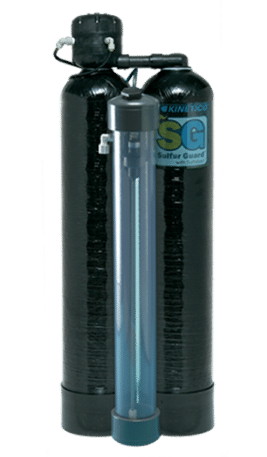 Sulfur Guard filters provide a turnkey remedy for handling foul-smelling "rotten egg" water. Unlike other systems that use multiple treatment stages and are expensive, cumbersome and complex to maintain, there's not much to do with a Kinetico Sulfur Guard™ filter but enjoy your water.
Dual Tank System

Dual tanks accommodate higher flow rates needed in multi-person and larger homes.

Non-Electric Operation

Moving water is the power source, not electricity, so operation is simple and reliable. There are no timers or computers to set, adjust, repair or replace.
Neutralizer
A simple, single-tank option for neutralizing the pH of your water, helping to eliminate the problems associated with acidic water.
Non-Electric

No timers or computers to set, adjust, repair or replace. Combined backwash and service cycles reduce maintenance and pressure drop.

Corrosion-Resistant Tank

Large tanks provide greater capacity, with easy-access top port for simpler media replenishment.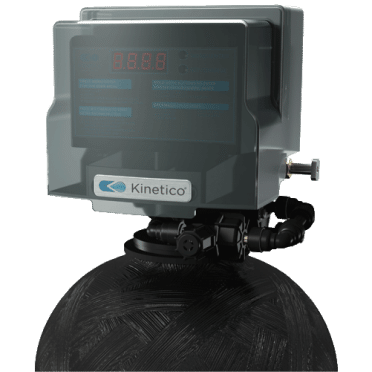 Powerline Pro Filters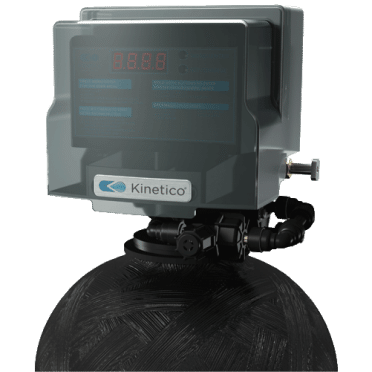 Protect appliances, fixtures and clothing from iron staining, and eliminate the rotten-egg odor caused by hydrogen sulfide gas in your water with these electric, single-tank systems.
State-of-the-art

Fully programmable control valve can be set up using handheld devices such as smartphones and tablets, via local Bluetooth® connection.

Customizable

Two available tank sizes and three unique media blends provide flexibility for installation.

Unique

Industry-exclusive features include external air injection to extend valve life and independently programmable air draw and backwash cycles to save water.

Single-Tank Electric Systems

Tough on problem water but easy on the budget, Powerline PRO Series filters are the perfect choice for efficient iron and sulfur removal.
We've Proudly Served The Bay Area For Over 40 Years
Join Over 15,000 Happy Customers From San Francisco To Monterey…
Honestly, over the years of calling De Anza Water for service was never a headache.  They had always been responsive and came on time and when they said they would.  There were never any surprises.
When I sold my house recently, I needed to fix the Reverse Osmosis unit because of a leak which was due to the housing of the unit, no big deal, really.  I worked with Jennifer Administrative Assistant where she never ever left me high and dry.  She responded very quickly, was completely behind what she said, and she helped schedule an appointment with the new owner.  She is the best!!!
The unit is fixed and working properly! Thanks so much for the great service over the years!
I was looking for a good water softener for a long time. I finally had enough with hard water for water stains and hair loss. So I started shopping around again and read some good reviews about Kinetico. DeAnza was very knowledgeable about water softener and understood my concerns about using soft water for irrigation and proposed a perfect solution to install another irrigation pipe directly to my backyard. Considering all the unique features of Kinetico and my concern was resolved, I hired De Anza water to install a refurbished system.
The system looked very nice in my garage. They showed me how to by-pass the water softener to clean the water filter and also mentioned that where the system might leak. So far the system is working perfectly and I cannot be happier with how my water now feels.
Our family chose De Anza Water Conditioning for many reasons.  They were extremely responsive to my online Yelp quote request, super friendly on the phone, and they carry a very high end product.  They are an authorized dealer of Kinetico which is basically a 2 for 1 product you get soft water all the time and all of your entire homes water is filtered.
Installation was super easy and fast.  Plumbing was routed very efficiently and clean looking.  It took only a couple of hours to finish the install. It has been a little over a week now and we can definitely taste, feel, and see a huge difference. Soap is super bubbly, water taste is amazing, our hair is softer more clean feeling.  We are really excited about our water quality now.  In honesty I was not expecting this big of a difference.  We don't like to mess around drinking and showering in poor quality water.  Thank you De Anza.
Requested De Anza Water to service our water softener and change out the whole house filter, and reverse osmosis water filters.  When our tech arrived, he suggested the possibility of replacing our 20 year old water softer. Technology has improved the softener to use 30% less water, 30% less salt, and less energy. Sounded like a win to us. We're glad we did it! I've been with De Anza Water conditioning for 20 years. We always find them to be 5 stars for us.
De Anza water has been a great solution for a filtered water system for our office! They are professional and responsive, highly recommend!
I highly recommend De Anza Water to anyone!! Great customer service!!!
We just had to place a service call (for something we caused… we still love the Kinetico system!!). Making the appointment was easy. We really appreciate that we got a message when our technician was on his way. It had his name, photo and a link to see how far away they were and when they would arrive.
They were so thorough with everything and respectful of our property!! And provided helpful info for extending the life of the system. 
I was very happy with the service and support from De Anza Water conditioning. Their package and service was not the least expensive that I considered but I was impressed by the long term support they provide their customers. I had a lot of questions and our sales person Tam was patient and addressed all my concerns. Installation went smoothly and I am SO happy with the system and the quality of our water.  I highly recommend De Anza Water.
Flow pressure of water is not compromised either, while ensuring great quality filtration and softening. Equipment does not use electricity either, compared to other brands that use electricity. Maintenance is not required every year for softener compared to competitors. This is a high quality product. Although expensive than other cheap brands, quality speaks for itself. In long run that additional expense does pay off.
I just LOVE these folks!  They have serviced my water softener for the better part of the last 15 years:  they are always on time, they are always thorough, the price is always what they said it would be when we scheduled the appointment, and they are always professional.  Patrick came out a couple weeks ago to change the carbon.  When he was doing it, he noticed a couple problems with the water softener and so he just fixed them without any extra charge.
We have been drinking their water since moved to California. we didn't like the hard water and the quality, found De Anza Water and learnt that we could get water softener and filtered drinking water installed, we decided to go this path. They came out, got everything installed, Patric, the installer is extremely knowledgable and helpful, he's really clean and efficient, got everything done in 4 hours! Now w can't wait to take it first shower with this new water softener! If u want get good quality water, bath ur kids and take care ur water pipes, go to De Anza water!
We have been a client for 10 years for water softener with De Anza and very happy.  After doing a lot of research, we had Kinetico RO put in for drinking water and LOVE the system.  It is amazing.  John came out to our house for consultation and we really learned a lot from him.  The water quality Exceeded our expectation.  Mike installed the unit and he was superb and we thank him for his amazing work.  Thank you John, Lynne, Mike, Judy and Ian.  The customer service is great.  If you are really looking to get an RO system, this is it.  It is expensive but WORTH IT. Every time I drink it, I think of John and how passionate he is about his work and company.
From start to finish, the most professional company I have ever worked with and who only sells and installs the most superior and highest quality water treatment systems available!
De Anza Water conditioning is consistently over delivering. My first installation was in 2008. Ever since then, when ever I have had a question or concern they were no more than a phone call away. Always on top of things and super helpful.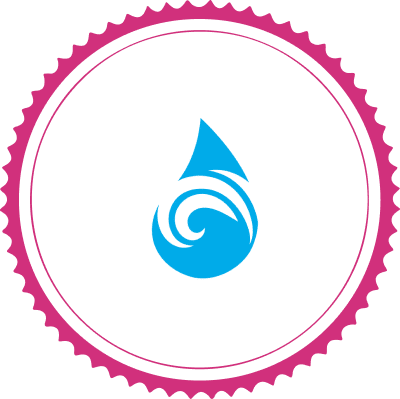 You're Covered By De Anza Water Conditioning's Crystal-Clear, Triple Guarantee
With more than 40 years of experience and trust built up from serving 15,000+ Bay Area customers, we want to keep that going for the next 40 years and beyond. That's why we cover you with our unbeatable, crystal-clear triple guarantee.
Here's how it works:
Soft, Filtered  Water Guaranteed

Our cutting-edge Kinetico water softeners and reverse osmosis systems will consistently produce soft, filtered water on a 24/7 basis. If your system doesn't perform for any reason, simply let us know in the first 60 days, and we'll fix or replace it free of charge.

Industry-Leading System Warranty

All our Kinetico systems carry an industry-leading warranty, so you get peace of mind thanks to lower maintenance costs for years to come.

Try It Before You Buy It!

Not sure whether a water softener or reverse osmosis filter is right for your business (or both)? Try one risk-free for 60 days! If you don't love it, we'll uninstall it AND give you 100% of your money back.
WONDERING WHICH SYSTEM IS RIGHT FOR YOU?
Claim Your FREE Water Test With A Kinetico-Certified Water Specialist And Get A Customized Recommendation (Worth $125)
Save Up To $500-$1000 When You Invest In One Of Our Leading Water Softeners Or Reverse Osmosis Systems!
Want to know whether your home or business water is safe? Don't put up with scaly hard water that tastes like it was scooped out of a swimming pool any longer! Book your free water test with our Kinetico-certified specialists to discover how you can get soft, purified water free from up to 99.9% of contaminants!
Discover How To Remove Up To 99.9% Of Contaminants And Get Safe, Delicious-Tasting Water In Your Home! (Value $125)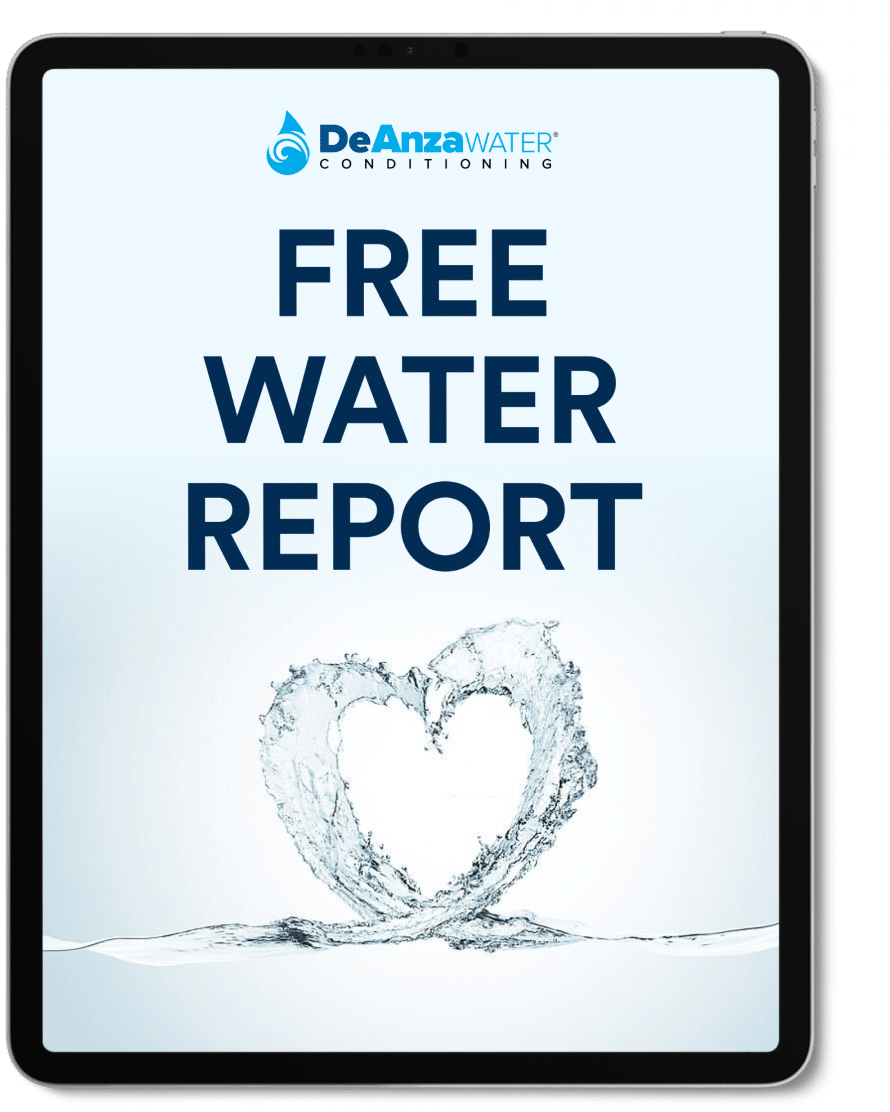 IS YOUR NEIGHBORHOOD'S WATER SAFE?
Get Your FREE Water Report to Discover the Quality of Your Water in Your Zip Code
Wondering whether you need a water softener, a filtration system, or both? Find out whether there are hard minerals or potentially harmful contaminants in your water supply! Simply let us know your details, and you'll have a simple, easy-to-understand report that reveals everything you need to know ASAP!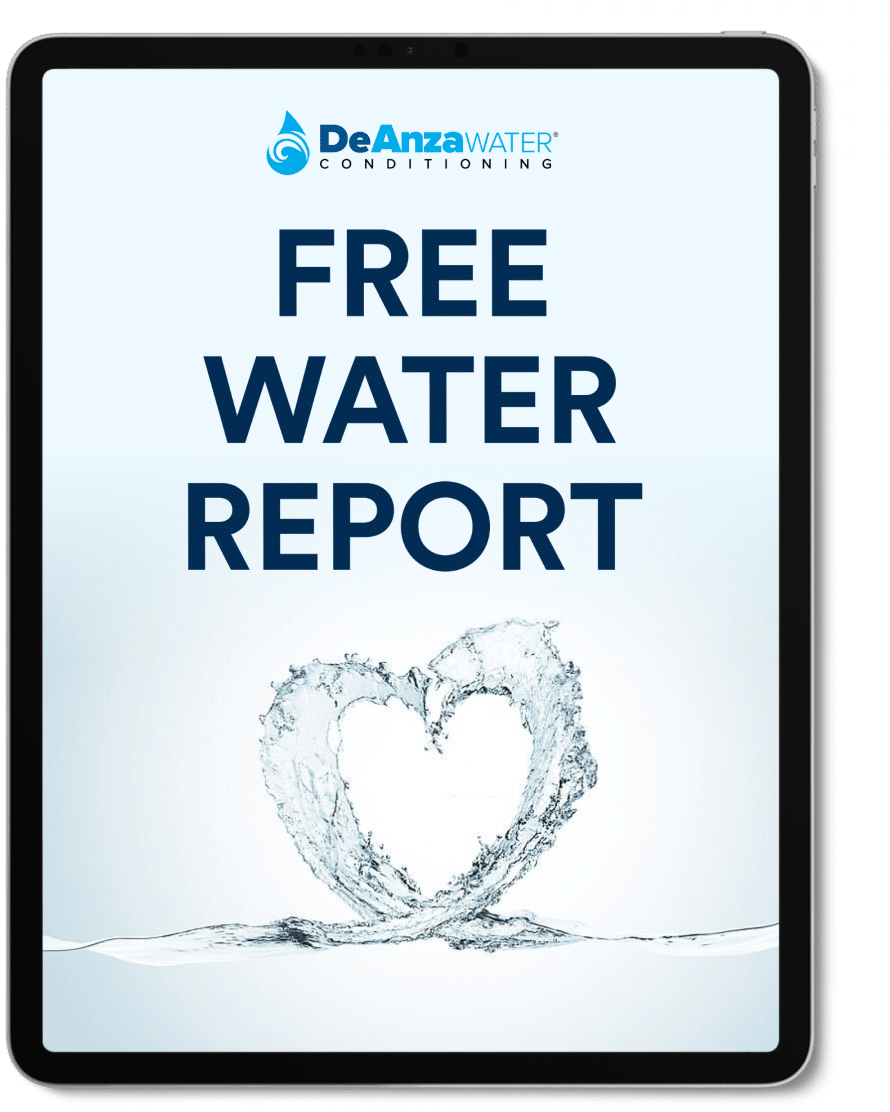 Discover How To Remove Up To 99.9% Of Contaminants And Get Safe, Delicious-Tasting Water In Your Home! (Value $125)